Meatballs In Garlic Tomato Sauce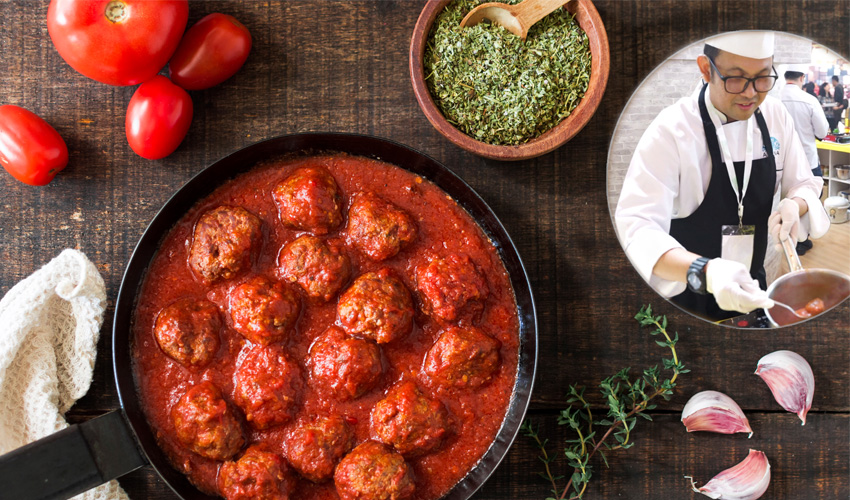 ingredients
For 6 portions
500 gr beef chuck roll (ground)
33 gr garlic minced
75 gr onion chopped
10 gr parsley chopped
2 pcs white toast slice soaked in milk
1 pc egg beaten
7 gr salt
3 gr Kotanyi Black Pepper
120 gr bread crumb
SAUCE:
Preparation
Make the meatballs by adding all the ingredients except the breadcrumbs, to a bowl and mixing well so everything is combined. Cover and refrigerate for a minimum of 30 minutes.
Roll the meatballs into golf ball size, then roll the balls in the breadcrumbs until they are evenly coated.
Add some olive oil to a skillet pan, heat and then place the meatballs in the pan and brown on all sides.
Once browned, transfer to a plate with kitchen paper and set aside.
Make the sauce by adding the minced garlic to the olive oil in a saucepan. Gently cook until the garlic has softened. Add the tomatoes and simmer until soft then add the remaining ingredients. Taste the sauce.
Transfer the meatballs to the saucepan and simmer gently for 10 minutes then serve with some lovely crusty bread fresh from the oven.
Copyright © 2021 PT Farmera Foods. All rights reserved.